Future Toyota Supra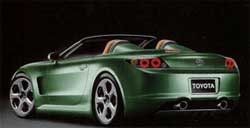 In early 2006, Toyota started dropping some hints that a new Supra was in the works. They leaked a few pictures of future concept cars and many Internet websites and Supra message forums were abuzz. Very few details have been offcially released about this new Supra, but we know that it will share components and possibly designs with the Lexus IS 350 and the Lexus GT 450. The car will be available as both a coupe and convertible (with a folding hard top) with two engine options. It seems that the powertrain will be naturally aspirated and Toyota will not be using the turbocharged inline six engines in these next generation Supras.

A second theory points to the next generation Toyota Supra being a true 'super car' in the Porsche 911, Ford GT, Lamborghini Gallardo and Ferrari F430 category. This version of the Supra would be powered by a 500 hp V10 engine with a 7-speed transmission and loads of technology from Toyota's Formula One stable. More importantly, the new Toyota Supra (which ever direction the company decides to go) may be unveiled to the market around October 2007. Supra fanatics shouldn't hold their breath on that added feature though.


Technical Details of the Toyota Supra Mk V
Year: 2007?
Style: Coupe and Convertible
Engine: 5.0 L DOHC V8 generating 450 hp and 383 lb of torque (coupe only) or a 3.5 L V6 putting out 350 hp and 275 lb of torque.
Price: Approximately $40,000 for the V6 version and $50,000 for the V8 powered Supra.
Pictures of the Future Tyoyota Supra